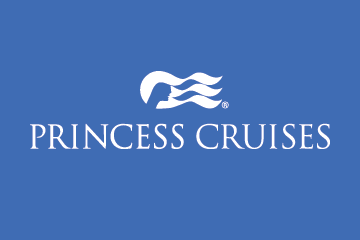 Partner Since: 2018
Princess Luggage Valet delivers your bags from your home to your stateroom, and then back home again. The service is offered in partnership with Luggage Forward® in order to make your travel experience easier.
---
About Princess
There are many to ways travel, but no one helps you truly discover the world's great destinations, its best-kept secrets, and the soul of its people, like Princess Cruises®. And that can mean the difference between a vacation and a life-changing experience.
Princess has been sailing around the globe since 1965, taking millions of guests on life transforming journeys on board a fleet of 18 magnificent ships to over 380 destinations. Onboard, you'll be immersed in the culture, colors and flavors of the places you'll visit, with authentic folkloric shows, regional cuisine and enlightening presentations by local experts. On shore, Princess introduces the bucket-list sights travelers want to see most – as well as hidden jewels not found in travel books – with our award-winning Discovery™ and Animal Planet™ Exclusive shore excursions.
Enjoy an array of signature features throughout their cruise, including dining options that include inspired dishes from an array award-winning chefs like restauranteur, author and TV celebrity Curtis Stone. There are dazzling live musicals from Broadway legend Stephen Schwartz, Movies Under the Stars – a Princess Original – as well as a new twist on the TV signing competition with The Voice of the Ocean.
As to rejuvenate body and mind, there is the Lotus Spa®, named Best Spa Facilities by Porthole Magazine, and a tranquil retreat reserved just for adults in the top-deck Sanctuary. And when the night ends, you'll be treated to the ultimate night of sleep with the Princess Luxury Bed – awarded Best Cruise Ship Bed by Cruise Critic.
Discover why Princess has been awarded "Best Cruise Itineraries" 12-times by Recommend Magazine and see the world in a whole new way – and come back new®