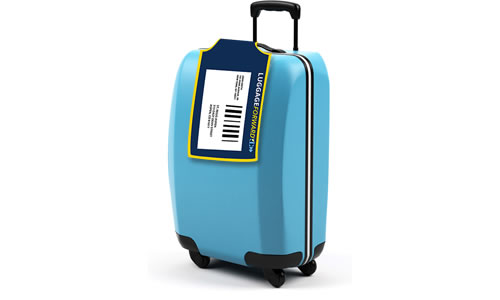 The cost to ship luggage with
Luggage Forward
At Luggage Forward, we believe in total transparency when it comes to the cost to ship luggage. We publish all-inclusive rates to each of the 200+ countries that we ship luggage to. The price you see is the price you pay. No surprises. With Luggage Forward, there are never any additional fees or surcharges. See our prices:
---
Cost to ship luggage with
Other shippers
The cost of shipping that same piece of luggage via FedEx or other traditional shipping companies may not be what it first appears. The "base price" or "freight charge" is just a portion of the total cost of shipping luggage because there are many basic shipping features that you'll pay extra for – like a doorstep pickup.
Here are a few of the charges to be aware of if you're comparing the cost of shipping luggage with FedEx or UPS:
$6-$12 Pickup Fee
5%-19% Fuel Surcharge
$4 Residential Surcharge – per bag
$11 Additional Handling – per bag
$5 Value Protection – per bag
Here is a detailed breakdown of these luggage shipping fees and surcharges
Freight & Fuel Charges
Base rate
$2 – $6 per pound
Every shipper charges a base rate for your shipment that typically is calculated based on weight of your bag, distance of shipment and speed of service. Be careful because the base rate is often just a part of the total price you will end up paying.
Fuel Surcharge
+ 5% – 19%
Fuel surcharges are charged by all traditional shipping companies and some specialty luggage shipping companies as well. Fuel surcharges are calculated as a percentage of the shipping price and can really increase the cost of shipping luggage.
Pickup & Delivery Fees
Pickup Fee
$4 – $50
If you would like your luggage picked up at your home or business, it will cost you. Most shippers charge between $4 and $12 per package for a residential pickup. Some specialty luggage shipping services even charge $50 just to pickup your bags!
Residential Surcharge
$4 per bag
Yup, there's a fee to have your items delivered to a residence with traditional shipping providers. This adds to the cost of shipping luggage with UPS or FedEx if you want to have your bags delivered back to your home after a vacation.
Packaging & Coverage
Packaging
$10+ per bag
If you want to have the value of your luggage and contents covered with a traditional shipping company, you'll have to make sure it's packaged in a box or corrugated container. If you don't have a box that will fit your suitcase, you can go to The UPS Store or FedEx Office and they will package items for a fee.
Value Protection
$5 per bag
Luggage Forward includes $500 of value protection coverage with every bag we ship. The same coverage from FedEx or UPS would cost an additional $4.50 per bag. Some specialty luggage shipping companies charge $20 per $500 of coverage!
Other Luggage Surcharges
Dimensional weight
+ 30% or more
Most shippers charge you the "greater of the actual weight or the dimensional weight." Dimensional weight is typically calculated by measuring the longest point on each side of your bag and applying this formula: (L x W x H) ÷ 139.
Additional Handling
$11 per bag
If you want to send your luggage without a box, you can do that but the bag and contents will not be covered for loss or damage…and you'll be charged $11 per bag by the shipper for and "additional handling" charge!
---
Compare actual shipping rates
Final cost of shipping luggage
In order to understand the full apples-to-apples comparison between Luggage Forward and other shippers, it is important to take into account all of the fees and surcharges imposed by other shippers to compare the total cost of shipping luggage. Here is what you would pay to ship a 50lb suitcase that measures 28H x 20W x 14L from a residence in New York to Los Angeles:

CARGO SHIPPER

SPECIALTY SHIPPER
Base Price
$189
$150
$139
Additional Fees
$66$32 – Dimensional Charges
$5 – Coverage
$4 – Pickup Fee
$4 – Residential Surcharge
$10 – Fuel Surcharge
$11 – Additional Handling
$69$19 – Dimensional Charges
$50 – Pickup Fee
$ –
Total Cost
$245
$219
$139
---
Luggage Forward reviews
See what real users have to say about shipping luggage with Luggage Forward.